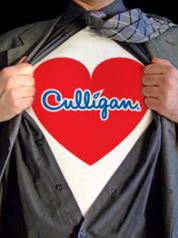 It's Valentine's Day. In light the love and happiness, let us count the ways Culligan and its products are a benefit to you and your loved ones. Keep yourself, your family and your home healthy and happy this year.
1. You'll use less soap and cleaning products when you have a Culligan water softener.
2. Want softer, more manageable hair? Without a buildup of hard water minerals in your hair, you will!
3. Keeping hydrated is essential to your health, and water is the perfect alternative to sugary sodas and juices. Culligan's whole home filtration systems will give your family access to great-tasting water at every tap.
4. If you have sensitive skin, soft water reduces the irritation from soaps and shampoos.
5. The plumbing and water-using appliances in your home will last longer with soft water, which reduces mineral buildup that clogs pipes and lowers water pressure.
6. Do you color your hair? Having a water softener in your home will help colored hair stay bright and radiant for longer.
7. Razor burn is a pain - literally. With soft water, razors glide more easily across the skin. The blades will last longer, too!
8. If you've got problem water, your local Culligan Man will come to your home to perform a free water test and determine the best solution for you based on its results.
9. Are your dishes spotty when you take them out of the dishwasher? Bet you have hard water. A softener will remove harmful minerals that can cloud or etch your glassware.
10. Clothes last longer, stay softer and remain brighter with soft water - hard water leaves mineral particles in the weave of most fabrics causing them to look dull and dingy.