Bringing efficiency to your water softening
Water softening has come a long way since Emmett Culligan founded Culligan in 1936. Next time you see your Culligan Man, ask him about the Culligan HE and find out. Though, I suppose we can save you the time and tell you a little bit about it here. Then y
---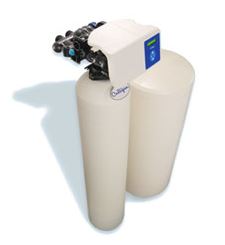 Water softening has come a long way since Emmett Culligan founded Culligan in 1936. Next time you see your Culligan Man, ask him about the Culligan HE and find out. Though, I suppose we can save you the time and tell you a little bit about it here. Then you can just tell the Culligan Man you
want
the Culligan HE.
The "HE," if you haven't figured it out already, stands for "high-efficiency." In fact, compared to a time clock regeneration softener, a Culligan HE system uses up to 46 percent less water, salt and energy. It's always nice to be a little kinder to Mother Earth, isn't it? Not to mention the money savings.
The softener is also pretty smart. It will actually let you know how many days are left before you have to refill the salt, and has a sensor that detects changes in your water conditions and makes softening adjustments accordingly.
There's plenty to learn and know
about the HE
, but
contact
your Culligan Man to find out the options in your area.