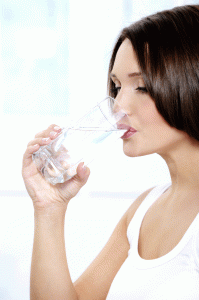 Our lives are busy. Sometimes it's easy to forget to drink water throughout the day. Have you ever reached the end of your day and realized you haven't had
any
water? It's likely you feel it. Dehydration has all kinds of nasty side effects - fatigue, headaches, irritability. However, the benefits of staying on top of your hydration are worth the effort to keep
great-tasting Culligan water
close at hand. If you have a tough time remembering to drink water throughout the day, try some of these tips:
Set a calendar alert either on your phone or your computer for a certain time each day. "Quick! Drink a glass of water" every day at 10 a.m. is a good way to remind yourself.
Create a goal. Set a goal to drink four full glasses of water during the work day and keep track on a c hart. Sometimes the simple act of checking off a tally is motivation enough to get there.
Make it easy - keep an insulated water bottle full on your desk and take sips from it all day.
Get competitive. Make a bet with a friend or coworker to see who can drink more water throughout the course of the day.
Drink one glass of water before dinner and another after dinner. Drinking a full glass before snacking can also keep you from eating to much.
Hopefully you've got Culligan water at home, and if you don't have access at work, talk to the powers that be about
Culligan Bottled Water Coolers
or Bottle-Free Coolers. Because as we always say, drinking eight glasses of water a day is only good if your water is!