Water vs. Sports Drink - The Clear Choice
Boy, it's been hot here at H2pointO Headquarters! It definitely keeps us running to the water cooler more often. It also has us thinking about proper hydration. But who are we kidding? We're always thinking about proper hydration. It comes wit
---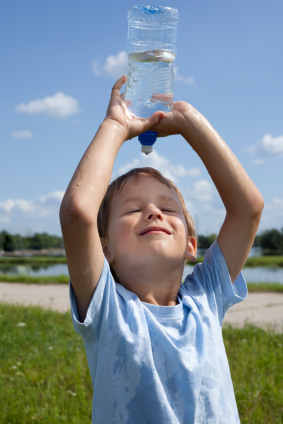 Boy, it's been hot here at H2pointO Headquarters! It definitely keeps us running to the water cooler more often. It also has us thinking about proper hydration. But who are we kidding? We're always thinking about proper hydration. It comes with the territory.
We came across an
interesting article
this week. In it, the benefit of choosing water vs. sports drinks is discussed, and how a glass of water combined with a piece of fruit after a game or work out is a fantastic alternative in some cases. Just like the Culligan Man, these guys seems to understand how important good water is to staying hydrated and healthy!
Why choose water and fruit over a sports drink? Sports drinks provide electrolytes, which are great after sweating a bunch during a tough game, but that's not all. According to the article:
Besides the small amount of potassium, what else does the sports drink offer? Thirty-four grams of sugar. If a child with an empty stomach is given 34 grams of processed sugar, the sugar will flow into the bloodstream quickly.
Water accompanied with a banana, for example, will hydrate you and help you stock up on even more electrolytes than a sugary sports drink.
So next time you or your kid step off the field what will you grab? Water, of course! The Culligan Man is
happy to help
you find out more about drinking water solutions.