Frequently Asked Questions About Bottled Water Coolers and Delivery
Culligan bottled water coolers provide healthier hydration for only pennies a glass. Learn more.
---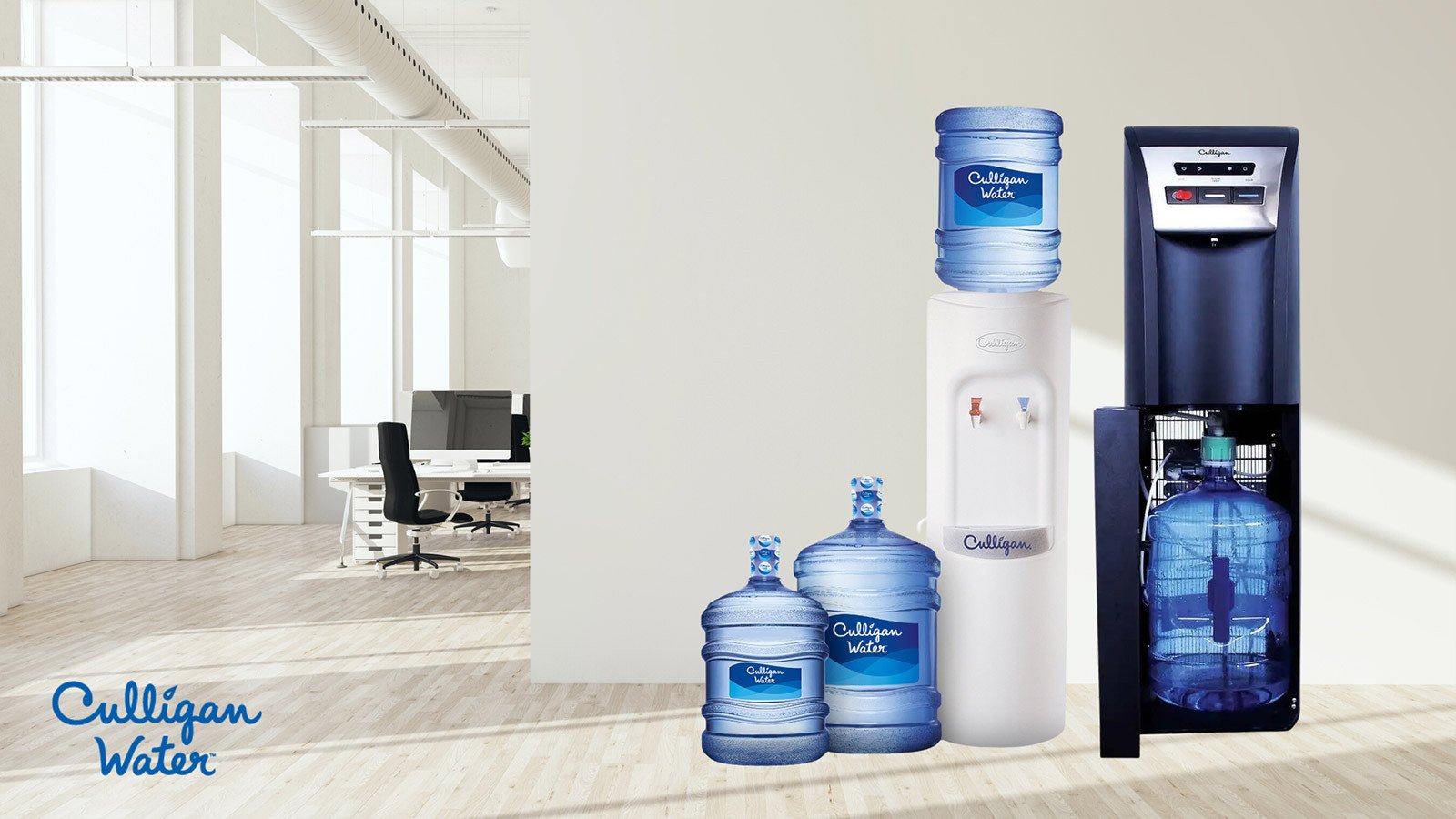 What's in your drinking water? Find out with our free water test from your local Culligan Water expert.
A
Culligan bottled water cooler
is the perfect solution to ineffective filter pitchers, unappealing water fountains or wasteful plastic water bottles. These standalone drinking water stations provide convenient hydration for homes and businesses alike.
In this article, we answer the following frequently asked questions about bottled water coolers:
Let's get started.
Bottled Water Cooler FAQs
Bottled water coolers are an efficient way of providing filtered, great-tasting water for customers, staff and families.
These water dispensers feature hot and cold temperature options in space-saving designs that measure less than one square foot. Bottled water coolers also provide flexibility in terms of placement because they are not required to connect to a water source.
Culligan bottled coolers can help with all kinds of common drinking water worries, including:
Culligan Water uses
reverse osmosis
filtration that effectively reduces microscopic impurities and contaminants. With reverse osmosis, pressure forces water through a semipermeable membrane. The membrane allows water molecules to pass through but blocks up to 99% of contaminants.
Bottled water coolers should be sanitized every 60-90 days according to the IBWA. This will prevent bacteria build-up and keep your cooler safer.
Required supplies:
Clean rubber gloves
Paper towel
Lint-free towel
Plastic scrub brush (longer handle for easier cleaning)
Teaspoon measuring spoon
2-gallon pail
Unscented household liquid bleach
Clean 1-gallon container filled with bottled water
*Never use soap/detergents, steel wool or any other abrasives on your reservoir.
Sanitization instructions:
Unplug the power cord.
Remove bottle from the cooler and cap/cover for reuse.
Drain and discard all water from the cooler.
Remove the cooler top — including the baffle** and no-spill device.
Drain water from the cold water chamber and melt any ice rings. DO NOT SPILL.
Prepare cleaning solution with 1 teaspoon of liquid bleach for each 1 gallon of water.
Thoroughly clean all surfaces of the cooler with a cleaning solution and towel.
Rinse the reservoir through the cold faucet.
Clean baffle, no-spill device, cooler top, removable drip tray and faucets with cleaning solution.
Thoroughly rinse cooler parts.
Reinstall all parts.
Place a bottle back on the cooler and drain two cups of water from each faucet.
Plug the cooler back into the electrical outlet — allow at least 45 minutes before use.
The convenience of delivery can make the decision easy when it comes to a bottled water service or buying individual bottles at the store. Culligan's flexible and dependable delivery service can be customized to your specific needs. Your local Culligan Water expert offers a wide range of products.
Delivery is the easiest and most reliable way to get better water for your home or business.
Culligan has more than 550 locations across North America, making bottled water delivery a convenient and affordable alternative to the heavy lifting and frequent grocery store trips of the past. With Culligan Water, enjoy cleaner, better-tasting water delivered right to your doorstep — whenever you need it most.
Water that is classified as "bottled water" or "drinking water" is regulated by the Food and Drug Administration (FDA) to maintain certain standards.
According to the FDA, for a product to be considered "bottled water," it cannot contain sweeteners or chemical additives. And it must be calorie-free and sugar-free. Flavors, extracts and essences – derived from spice or fruit – can be added to bottled water, but these additions must make up less than one percent of the final product. Beverages containing more than one percent of added flavor are classified as soft drinks, not bottled water.
The FDA defines the various water types as follows:
Artesian water: Bottled water from a well that taps a confined aquifer (a water-bearing underground layer of rock or sand).
Mineral water: Contains no less than 250 parts per million of total dissolved solids (minerals). No minerals can be added to this product.
Purified water: Water labeled as "purified" can come from distillation, deionization or reverse osmosis.
Sparkling water: Water that contains the same amount of carbon dioxide that it had before treatment. Soda water, seltzer water and tonic water are not considered bottled waters. They are regulated separately and may contain sugar and calories. These types of waters are considered soft drinks.
Spring water: Bottled water that comes from an underground formation from which water flows naturally to the surface of the earth.
Distilled water: Water from an approved source and heated to produce steam. The dissolved solids are left behind and the steam is condensed for a pure, mineral free, distilled product.
The total cost of Culligan bottled water can vary. It depends on three factors: the quantity, the type of water for your home or business, and the frequency of your delivery.
Our bottled water coolers are designed to meet your home or business's unique drinking water needs. Check out some of the benefits of each model below.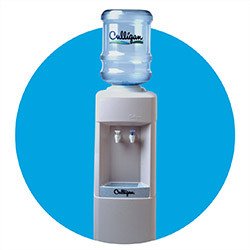 Culligan® Bottled Water Cooler:
High-quality, filtered drinking water when you need it
Standalone unit allows you to move the water cooler
Compact design takes up less than one square foot of space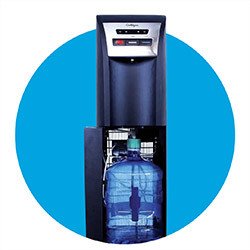 Culligan® Bottom-Load Bottled Water Cooler:
Bottom-load design eliminates the hassle of lifting heavy 5-gallon bottles
Provides hot, cold and room temperature water with the push of a button
Compact design takes up less than one square foot of space
Getting Started
Bottled water coolers provide refreshing, high-quality drinking water for your employees and customers. It's the perfect solution for homes, offices, conference rooms, waiting rooms, hotel lobbies, gyms, manufacturing facilities and more.
Culligan Water is an industry leader with more than 85 years of experience and top-rated water treatment technology. We offer customers a 100% satisfaction guarantee and a team of local water experts committed to providing the best service available.
*Contaminants may not be in your water.
**The baffle is a piece inside bottled water coolers that separates warm and cool water. It can help to reduce the amount of coolant used.