Pump Up Your Smart Water Technology With Culligan Aquasential™ Products
Introducing the Culligan Connect app - our smart water technology delivers real-time information, peace of mind and 24/7 support from your Culligan Water expert.
---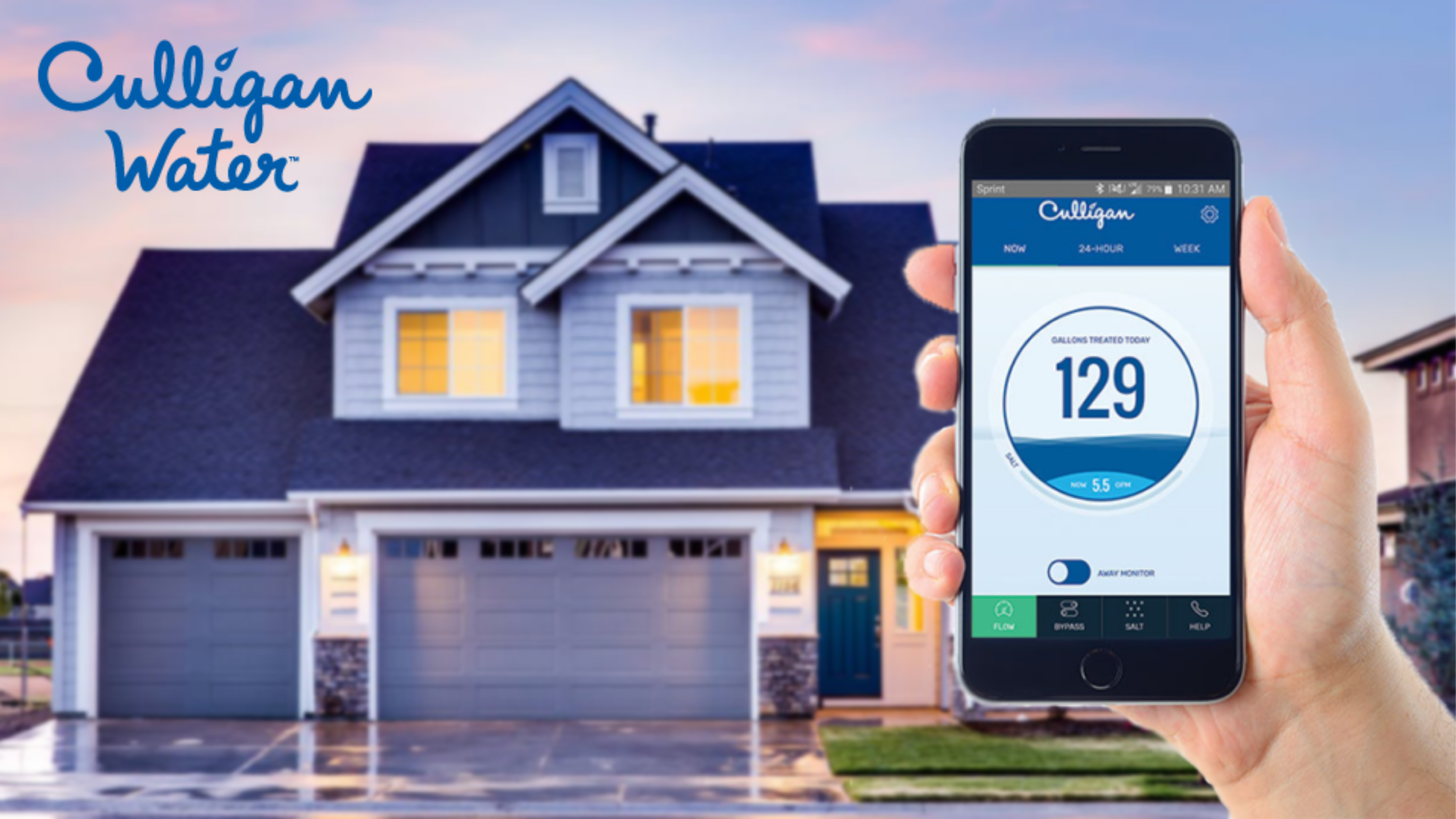 Be in the know with your H2O! Get a free water test from your local Culligan Water expert.
Every home is different. Depending on the location, or even the day, your water may have impurities, off-flavors or any number of other unwanted contaminants*. Many off-the-shelf
water treatment systems
only deal with a small handful of issues and impurities. But now there's a smarter way to manage your water. One that addresses
your unique water needs
. Meet Culligan's smart water technology.
New Aquasential™ products from Culligan Water feature smart technology. So you can ensure world-class water right from your smartphone or tablet. The Culligan Connect™ app allows you to analyze your water quality, monitor system performance and track water consumption anytime, from anywhere.
Let's take a closer look at the app's features. And compatible Culligan water systems.
Why upgrade to Culligan Connect™ smart water technology?
The Culligan Connect™ app is the latest innovation for High Efficiency Water Softeners and Reverse Osmosis Drinking Water Systems. The app enables users to optimize performance and maximize the efficiency of their Culligan equipment.
The Culligan Connect™ app saves you:
Time - The home screen displays flow rates, water usage and salt levels. And, it displays in one easy-to-read format. Additionally, it provides 24/7 support to take the time out of service requests and troubleshooting.
Money - The app lets you track your water usage more closely. So, it provides the insight needed to cut back on water waste and lower your bills.
Worry - The away monitoring feature alerts you to any unexpected changes in flow while you're out of the house. And it sends you notifications when your salt levels are running low or you need to replace a filter cartridge.
Here's how it works.
Connecting to Your Water
The Culligan Connect™ App is compatible with both the Aquasential® Smart Reverse Osmosis Drinking Water System and Aquasential™ Smart High Efficiency Water Softener. As such, it offers easy, intuitive control over your water.
Aquasential® Smart Reverse Osmosis (RO) Drinking Water System
With our Aquasential® Smart RO Drinking Water System, staying connected to your drinking water has never been easier. Access an unlimited supply of cleaner, better-tasting drinking water right
from the tap
.
The Aquasential® Smart RO can be customized to address your home's unique water needs. This makes it one of the best home water filtration systems available.
What does that mean for you?
Cleaner, Safer Hydration: Featuring up to seven stages of filtration and 12 filter options, our industry-leading reverse osmosis system is certified to reduce 58 contaminants. These include lead, arsenic, pharmaceuticals, volatile organic compounds (VOCs) and more.*
Less Hassle and Waste: With long-lasting, highly efficient filters, you can enjoy a continuous supply of refreshing water. Moreover, you can enjoy them without the hassle or plastic waste of single-use water bottles.
Worry-Free Water: This smart reverse osmosis system always lets you know how your system is working. Plus, it can alert you and your dealer when service or filter replacements are needed.
And it doesn't stop there. We've got your soft water needs covered, too.
Aquasential™ Smart High Efficiency Water Softener
Say hello to the world's most efficient water softener.**
The Aquasential™ Smart High Efficiency (HE) Water Softener optimizes salt, water and electricity usage. As a result, it decreases operating costs by up to 46%. By removing hard water contaminants, water-using appliances last longer, dishes become cleaner. And your clothes, hair and skin become softer than ever before.
These are just some of the many
perks
:
Hassle-Free Operation: Our salt delivery and maintenance programs mean you never have to worry about keeping your system operating at peak performance.
Smart Tracking: Its app-connected technology monitors water flow, daily water usage and salt levels. And notifies you when salt is running low.
Cost Savings: As one of the best water softener systems available, it helps you save money on soap, detergent, lotion, electricity and gas. Additionally, it extends the lifespan of water-using appliances. Plus, the app's bypass option saves you money on salt by only softening your water when needed.
From system-monitoring to service requests, it's all done with a simple tap on the app!
Getting the Culligan Connect™ App
In conclusion, the Culligan Connect™ app gives you the peace of mind and freedom to control your water systems remotely. Whether you are at home or away, use the Culligan Connect™ app to enjoy cleaner, softer and smarter water. Every drop, every day.
*Contaminants may not be in your water.
**HE Softener when configured with proportional upflow brining with Aqua Sensor.